Laser burns
Hi Sanket, Thanx for asking, i am fine and doing good. Yes, I started spraying from 28th of August. Firstly I want to say that Dr. Wheatgrass spray is magical. All my bumps which left after laser, they disappeared after 3rd use of this spray. I am so glad to buy this product. Not for molluscum I used this spray for pock which suddenly appeared in my hand and again it disappeared in 4 days.
N yes I followed your instructions carefully.
Testimonial received by Dr Wheatgrass India. 04 October, 2020 *Image received below.
For minor injuries and itching, I use Dr Wheatgrass skin recovery spray rather than over-the-counter medications. When I first used it, I was surprised that the redness of the burns that had been around for a while disappeared immediately. When I used it for insect bites as a trial, the itch stopped in one shot … Super balm can be used for scratches. It heals quickly and I can't let go of this.

Olivemania. Japan. 23 July, 2020 Review from buyma.com
An 86 year old man had an SCC removed from the apex of his head with a split skin graft applied. He was given 2 weeks of radiotherapy to the area before the skin graft had healed. He was sent home with a warning that the whole area would breakdown and that his whole scalp would probably slough off as well.
As soon as I saw him I sprayed his whole head with the wheatgrass spray and put a dry, non-stick dressing over the graft site. The erythema on his scalp had markedly reduced by the next day and the graft site was looking so much better.
We did the WG spray every 2nd day over the following 2 weeks. The scalp didn't even peel. The skin graft healed beautifully & he returns for a review next week. This fellow has assured me that he will take the spray to show his medicos what healed the graft site and the radiation burns. I can't wait to hear what their reaction will be.

E. T. Domiciliary Nurse. Australia. 19 July, 2017
Dear Dr Wheatgrass
I am a loyal Dr Wheatgrass customer. Last week I was making jam and baking cookies.
I burnt myself twice. With the jam, I burnt my fingers quite badly and with the cookies I burnt my arm on the grill in the oven. In both cases I applied the (wheatgrass) burn spray immediately.
In both cases, the pain completely disappeared. In the case of my arm, I saw a slight scab the next day. Only then did I remember that I burnt myself. And on my finger not even a mark. I could hardly believe it.
Thanks for a remarkable product.

E. VR. South Africa. 17 May, 2017
Been meaning to contact you and tell you how I used the skin recovery spray on bad burns from leaning on just welded steel , Cooked my arm like a Saturday night BBQ,, but within 4 days a big improvement , and just over a week later , almost gone !!!! Also I found the spray works really well for jock itch ,, the perils of males in summer ???? All the best.
J. S. Australia. 19 December, 2016
I just want to let you know that recently my children got sunburnt and I sprayed my kids and my friends children with WG spray and she was amazed that the next day the redness had disappeared. Thank you for your truly amazing products.
E. B. Australia. 28 September, 2016
I had a horrible steam burn on my hand and did not think to use the balm. However, after a week, I came to my senses and started applying once daily and the results are phenomenally good.
T. C. Australia. 5 May, 2016
I had a bad burn on my arm that just wasn't healing quickly or properly. I had tried many different things on it and after a month it was still in really bad shape (red, itchy, painful). I bought this product and it was immediately soothing – it stopped the pain and itching. The burn started to heal very quickly. I noticed a dramatic difference within a day. I've been using it everyday since and now the burn is basically gone. It is barely a small mark on my arm. I don't think it will even scar. I am trying this on my hands, too, where I have some sort of skin issue (eczema? psoriasis?). It's a bit tougher there because I use and wash my hands a lot. It's definitely soothing and I am hopefully that it will clear up this issue with regular use.
J. USA. 28 March, 2016 Thanks to Amazon
Restaurant kitchen hand
I went to pick up a few pans that i was told to clean at work, no one told me that the pan handles were still really hot so i grabbed them and burnt a few fingers and my palm. Thankfully my work had a bottle of wheatgrass spray and i used it. After a few minutes the burning stopped and there was no blistering the next morning.

J. W. Australia. 23 March 2016
I burn my fingers a lot while cooking so I tried it last week. It worked really well.

G. J. USA. 21 March, 2016
I used wheatfix burn spray on a bad burn that I obtained from steam from my kettle. This burn was located on the softpart of my lower arm, and it immediately turned red and swollen. I was in a lot of pain. I remembered my husband telling me about the burn spray, so I immediately sprayed the affected area. Within seconds the pain disappeared, I was so amazed!! The following morning I was once again amazed to find the burn had totally disappeared. I have told numerous people about this incident, and they also couldn't believe how the burn had totally gone, without leaving a mark. I fully endorse this product, and have recommended it to my family and friends. Yours sincerely.
N. E. Australia. 14 March, 2016
(Click on link above for photos of the spaniel's healing) My Springer spaniel Pluto had radiation therapy for a cancerous tumour in his nose. I used the burn spray and recovery cream. These are the results.You can see that it healed the wound so quickly, I was so happy with the results. I also gave him the quick Supershots, added to his food. I would totally recommend this product. I have the whole range now lol.
You can use Pluto's story to help other pet owners. Thank you, I can't tell you how much that cream helped. We were beginning to think we had done the wrong thing by him in having the radiation. He was so miserable and uncomfortable. The cream the hospital gave us wasn't doing anything but the wheatgrass cleared it up within a week!
Amazing stuff!
V. A. Australia. 3 March 2016
I love this spray!!! It works incredibly well on insect bites, allergies and dry skin too! I know this from experience!!! Fantastic stuff!!
J.G.Australia 15 February, 2016
Lucky I carry it everywhere I go.
D. B. Australia. 15 February, 2016
Gary sprayed the wheatgrass spray on his bluebottle sting at 6.30pm ish. His severe lower back pain (side-effect of sting) settled down within 20 minutes. The sting welt on his leg (that was the full body of the bluebottle not just the tentacle) had settled down by 90% within 1 hour and 15 mins. The ones on his stomach had fully gone within 30 mins. We sprayed on all areas twice.
H.S. Australia 26 Jan 2016
I have the burn spray which I bought from the pharmacy where I work, it is fantastic and I sprayed it on my forehead and back of neck whilst I had a headache, it eliminated the need for pain relief medication.
C. C. Australia. 14 January, 2016
I have recently bought the wheatgrass spray for my medicine kit and I have used it on sunburn. Love it!!!
A. A. Australia. 9 January, 2016
Previously we have used your wheatgrass spray, which I have personally found to be wonderfully soothing on sunburn.
L. T. Australia. 7 January, 2016
I burnt my left hand taking a really hot ceramic oven safe plate out of the oven. I sprayed Wheatgrass Spray straight away and my skin was perfect after 2 hours. It was a pretty bad accident when I grabbed the hot plate forgetting it just came out of oven. It was so hot that I had to drop the plate.My husband was really worried and told me to put my hand under cold water but I refused and sprayed 3 times in about 30 mins with the wheatgrass spray. It was amazing there was no redness, no pain no blister after spraying.
S. K. Australia. 15 December, 2015
Just wanted to let you know my experience on Melbourne Cup day this year.
Thought I'd give a miss on watching TV for a change and we went for walk at the beach. We walked about 2 hours along beautiful Sunshine coast beaches. I put sunblock cream all over except behind my neck. I had my hair out so I didn't worry. But as it was getting hot I tied my hair up and kept walking. When I got home my husband saw me and said you got burnt! It was only on my left shoulder to behind my neck that I didn't realize. Then started to get painful at night. I sprayed Wheatgrass spray a couple of times. It was really red but the pain was gone and I could have the shower on my shoulder and next day wearing the shirt didn't cause any agony. It was still red for a couple of days but pain was gone in an hour and skin did not peel at all. Usually my skin goes from red to brown and peels. Everyone should keep this spray in their first aid kit! Thank you.
Here is the photo of my shoulder how bad it was.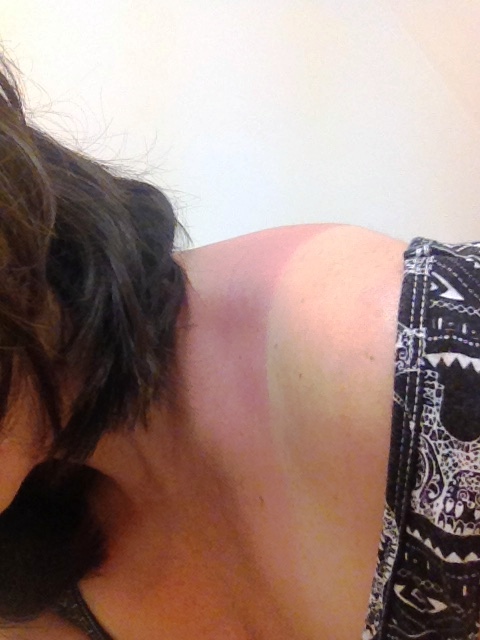 Y. L. Australia. 26 November, 2015
My husband is an avid user of the wheatgrass spray because as a motor mechanic he often burns himself on things like hot starter motors. He is amazed that if he sprays it straight away, there is no sign of a burn or blister the day after.
L. S. Australia. 25 November, 2015
Just wanted to let you know I managed to pour boiling water over my hand the other night. After running it under cool water for 10 mins I immediately put on some wheatgrass cream I've had sitting in the cupboard for at least 7 years. 2 panadol and some pain cream later, I went to bed. The next morning other than a tiny bit of stiffness, you would never know that I had burnt myself! I credit this to the wheatgrass – so thank you very much for providing such an awesome product!
C. S. Australia. 16 October, 2015
Hello. Your products are great and I had one question. I received a chemical burn near my hairline from a chemical hair straightener. Wheatgrass products healed it up within a week(exactly to the day I got the burn). I stopped using it once the inital damage had healed.
T. C. USA. 18 January, 2015
Hi Dr Chris I am one of your loyal Wheatgrass users. I felt compelled to write to you since I just received your email regarding Dr Wheatgrass Spray for sunburn. My family and I just spent 12 glorious days in Noosa on the Sunshine Coast. On our first day of arriving much to my horror my 8 year old daughter got very burnt on her delicate face. Against my better judgement and influenced by others we applied things like aloe Vera gel and different moisturisers to try and relieve my daughters pain and redness. By the third day it had not improved at all and I said to my well meaning family enough, I am going to use my Dr Wheatgrass Spray as it seems to work on most things. Within 24 hours the redness had almost gone and my daughter had no more pain……….amazing! Thank you for your wonderful products I have your spray, super balm and I take your shots, I couldn't be more pleased with your products. Kind regards.
D. N. Australia. 10 December, 2013
I got a bit sunburnt over the week-end on my shoulders and after two days of putting the wheatgrass cream on twice a day, the skin has almost returned to my normal complexion and I don't feel the discomfort when moving my arms up and down anymore. It does work!
Thank you Dr Wheatgrass!
P. V. Australia. 7 November, 2013
Omg I used the recovery cream on my face after being sun burnt and it took the redness and soreness away by the next day.
K. H. Australia. 8 May, 2013
My husband gets burns up and down his forearms from the large industrial ovens he works with in the kitchen at work. I have been using the wheatgrass spray on him and seeing much quicker healing and he is really impressed with the wheatgrass. This stuff is wonderful! I'm a convert!
E. H. USA. 2 April, 2013
I am Sneha 17 yrs old from India(Mumbai) Hot boiling water spilt on my legs and I went to a Hospital for treatment and was continuing the treatment for 3weeks and they were dressing the wound every alternate day. My mother's friend is a beautician she told us about wheat grass spray and I went to her and they sprayed the wheatgrass spray and my wound healed after 10days of every alternate day of wheat grass spray and there was no sign of a wound mark or scar. I am happy about it being a lady. Burn scars look bad and thanks to wheatgrass for saving me from scar.
S. M. India. 18 February, 2012
I was drinking my morning tea and the cup handle broke and the hot tea spilled on my stomach and underneath. My wife's friend is a beautician and she had the wheat grass spray and they sprayed the wheat grass spray on my burn wound and I had developed a blister around, after three days alternate spraying of wheat grass spray the burns healed and their were no marks left and the pain and burning had gone.
A. K. India. 18 February, 2012
I was outside for quite a few hours this morning. It was hot and very sunny out there. My face became quite hot and red – my face tends to do that when I get overheated – and my skin started feeling 'burned.' I had my hat on so I knew it wasn't sunburn in that short time, but a combination of sweat and being a bit too aggressive with a new facial cleanser/polish. I came in and took a shower but it still had that burning sensation. So I thought – why not? I sprayed your Dr. Wheatgrass spray on my face and in less than a minute the burning was gone. I find it to be the most unbelievable stuff. I thank you.
D. S. Mexico. 17 October, 2011
I have used the wheatgrass spray on a small child which burnt her hand on a boiling water the results were amazing. The Superbalm has helped people with pain.
Dr. L. V. Mumbai, India. 6 May, 2009
I have a tube of wheatgrass cream and I absolutely use it on everything. A few days ago, I accidently spilt some boiled water on my hand, and boy did it hurt. I stuck my hand under the tap, and I could actually see a blister starting to form in the soft parts in the joins of the finger. As my hand is under the water, its going through my head that you cannot put anything on your burn. I thought no way, I am going to use my wheatgrass cream on it. Without a word of a lie, afer a few more applications, by morning there was no blisters. It was still red, but the blisters where gone. Absolutely amazing love it, and will be buying more wheatgrass products. I will make sure I always have these items on hand, I never want to run out of them.
Thank you for wonderful products and thankyou for letting me say how wonderful wheatgrass is.
K & D. Australia. 25 March, 2009
I have used your cream in the past, especially on my thumb which tends to cause me pain at times. It helps. I am a teacher and had it at work the other day while I was using the hot glue gun. I burned myself worse than I had ever done before. I remembered it was good for burns and put some on right away. Within about 2 hours I had no pain and the redness was almost completely gone. I was amazed.
Molly. USA. January, 2005
Your wheatgrass cream is pretty impressive – I splashed a big blob of boiling oil onto the back of my hand the other day, tried the cold water for few hours, started hurting as soon as I took it out, then aloe vera juice which stung like anything, then finally remembered the wheatgrass stuff – it worked like magic, stopped hurting after the second application, no worries at all, just slightly red mark!!
Dr. P. R. New South Wales, December, 2004
Thank goodness I packed your wheatgrass cream for our last family vacation. During the trip, I sustained a burn to the palm of my hand because a chef failed to remove the skewer from my entrée. Although I used a cloth napkin to grab the hot skewer it was hot enough to burn a hole through the napkin and left me with a nasty burn. I put ice on it immediately, dried my hand and then gently applied the wheatgrass cream from the tube I had in my purse.
I remembered from the insert I received with the cream, that you said it was a good first aid cream and boy did I need one. Needless to say I had more than a few nasty words for the owner of the restaurant, but have only praise your wheatgrass cream. I used it continually and my hand healed nicely without a scar. It was also great for insect bites. In spite of the burn, our vacation was great.
You make a good product that has many uses. I'd recommend it to anyone. They should have it at home and take it with them when they travel.
C. E. Missouri. USA. January, 2004