It really works
I have brought this product before and I love it.
B.H. AUS. 13 December, 2021 Amazon
Amazing product!
This product has cleared up any skin issues my family has encountered.
J.H. USA. 25 September, 2021 Amazon
Working so far so good!
A friend used this for her little girl that has a large patch of Molluscum behind her knee. My little boy so far has only had one spot show up, but it's probably at least half the size in roughly two weeks!
B.F. USA. 10 May, 2021
Worth the price!
I used this for my sons molluscum contagious, I think that's what it's called. I used consistently for a week day and night. His knees and backs of his legs were covered and for the most part they are gone!! So happy with this stuff! It was definitely worth the price!
M.C. USA. 19 April, 2021
This stuff is like skin food. Im so glad to have started using this product.
Review provided by ebay.com
M. 22 February, 2021
This stuff is like its even great for eczema
Before and after this is amazon I wish I would have found it sooner my other daughters had them horribly (image attached)
ARS USA. 21 February, 2021
I loved this product it worked great for my kids
G. L. Amazon USA. 4 February, 2021
Wonderful Product for Molluscum
I bought this for my 8 year old son. He developed the molluscum in the knew and elbow area. Initially it was only a couple which we did not pay much attention to. But gradually increased over a period of two months. It wasn't very bad but we were concerned that may spread to larger area. Our doctor advised to use Dr Wheatgrass spray once a day. Just spray over the affected are generously and leave it. We used to spray it just before going to bed. And within two week of daily use it stared healing and now after three weeks it's almost gone. First week my son complained about lot of itching and he ended up scraching up a bit. But with continuous use it all gone.
Bez. Australia. 15 January, 2021
Ulcer
IT WORKS! This spray has helped with my ulcer tremendously. I have been using it for about two weeks, and I can see great improvement so far. I didn't think it would work because it is a very sheer, water based product… but I was wrong.
G. A. Amazon USA. 6 August, 2020
Light weight healing agent.
Accomplished the purpose I purchased it for. An agent to heal a leg wound.
P. Amazon USA. 19 July, 2020
MIRACLE SPRAY!
My two daughters were told they had molloscum spots. It started out being only two or three spots, but it began to spread. They had many spots covering their legs, arms, back, belly, and also private areas. We began treating it with Zymaderm. Over time, the Zymaderm started eating away their skin, leaving enflamed, red, and flaky patches. The girls were in a lot of pain and it wasn't removing the spots at all! We treated them with the Zymaderm for over a year with almost NO results. I saw the reviews for this product and figured I'd try it, I was willing to try anything at this point. THIS IS A MIRACLE SPRAY…it has a weird smell, but a natural smell (not like a chemical smell). We started spraying their spots down only at night after a bath and within a month they were ALL gone! It's been about 6 months and no return of the molluscum spots! So happy with this product, highly recommend!

Bill. Amazon USA. 18 July, 2020
Great product! Seems to be helping with my sons molluscum!
Amazon Customer. USA. 14 July, 2020
Healing my molluscum contagiosum
I've been using this spray for 3 weeks on my molluscum contagiosum I've had for about 9 months. I only had about 6 of them, with no idea how I caught it. I've been using this twice a day and the biggest one I had has nearly gone and has scabbed over I can't believe it I still have 5 little ones left but I will persevere with this. After a couple of day's of using this the bigger one went very red and itchy and bit sore so it definitely got worse before it got better but this is a sign your immune system is fighting the virus. One evening in the shower it popped on it's own and the puss came out, so I washed it all out and then applied a plaster, I have read this is the 'virus' but it hasn't spread. I really recommend anyone trying this product if you have the same virus. I can't comment on what it is like for any other skin condition. It is pricey but I feel like it would last a long time so it's definitely worth it.
K.  Amazon UK. 16 May, 2020
Worth the money.  My daughter had bumps around her fingernails, elbows, and knees. We tried for 2 years different meds and finally found Dr.wheatgrass spray!!!! Best 40$ we spent. Well worth the money.
Amazon customer. US. 18 February, 2020
Dr. Wheatgrass is amazing! My 3 year was diagnose with MC 3 months ago. I couldn't be more happier with this product. I would definitely recommend  I love the spray Thank you so much
M. 4 December 2019
Magical Stuff. Amazing! Cleared up a stubborn painful rash on my bum that kept popping up! I tried everything, even prescribed steroid ointments and creams. Nothing worked until I found this gem. In just two weeks my rash cleared up and hasn't flared up for months. It's like magic. Works great on my daughters eczema as well!
C. 22 October, 2019
Surprisingly effective. We could see results on the molluscum on our four years old underarm within a week.
J.S. 18 October, 2019
My daughter started off with one molluscum bump, then it spread to several bumps. It later spread all over her body, including her face due to her scratching. I had already tried Zymaderm, which did work, however it took several months to work on just one bump and it left a scar and she broke out in a rash from it. I came across Dr Wheatgrass while searching the WWW. Being that it spread all over her body and she was just starting preschool I was willing to try anything, so i decided to order the Recovery Spray. To my surprise, I noticed the product was working within a matter of days. I faithfully applied the product twice a day and I can honestly say that she is molluscum free just after 2 weeks of using the product. No side effects, her skin is smooth and soft. I also decided to try it on my dandruff and it works! I would definitely recommend this 5 star, miracle product!!
A. 10 September, 2019
Magic spray. Useful spray for a multitude of skin problems
Tc. Amazon UK. 21 July, 2019
ive used it before
i love everything about it
D.H. 13 July, 2019
Helped with molluscum
I bought this for my children's molluscum issues they had for over a year. My youngest son started getting them around his anis so I have this a try after many other products that did little to nothing to help. I don't write many reviews, but if you're out there searching for something for molluscum try this product. It doesn't work over night, but after using this since feb 2019 my son and daughter are free of molluscum. I did not pop my sons, as his were too close to a sensitive area. But every night I applied the spray and over the course of a few weeks the bumps got red and then disappeared. My daughters were more stubborn and I did pop hers and remove the white center. They bleed a lot but I applied this and the healing was well. No reoccurrence.
S.P. 15 May, 2019
My child has been suffering with Molluscum for months. We have been using the Recovery Spray for only 2 weeks (twice a day) and the rash is rapidly clearing up…
J. L. Amazon USA. 22 March, 2019
Amazing! It worked for us. My daughters pediatrician told us it (molluscus) would last 9 months- 1 year. But we've been using if for a month now & over 80% of it is gone.
Amazon Customer. USA.  05 March, 2019
I bought this thinking it was total snake oil but I was desperate for something to help my daughter's molluscum. BUT IT WORKED! It doesn't make any sense but somehow it worked. It progressed the spots she had, many ruptured and then healed up. We used neosporin on those that had ruptured. Went from around 50 down to 5 in a month. Couldn't be happier with this [expensive but worth it] product.
Chase. Amazon USA. 09 February, 2019
MOLLUSCUM LIFESAVER!!!
I'm a frequent online shopper yet never write reviews, but I have to in this situation, if it helps one single other family speed up the Molluscum process. March '18 our 4 year old got it, probably had 20-30 spots. Since we didn't know what it was for awhile, he had spent weeks sharing a bath with his little brother, who was 15 months at the time. By the time he was 20 months, he had them popping up EVERYWHERE!!! The 4 year olds were all hidden by clothes, and his doc said there's nothing that can be given medicinally, so we let them go. I don't know how many nights I was frustrated to tears with the youngest ones "spots".. more appearing all the time. We ended up with around 80 or so. And those little suckers move SLOW!! I hate that anything this lengthy cannot be helped, so I googled every night before bed until I finally found this spray. I'd already tried a ton of essential oil recipes and maybe only a bit of progress. Try dabbing oil on 80 spots on an almost 2 year old! The reviews on this sold me and I ordered immediately, that was in November '18. I believe after 6-7 weeks, and using one full bottle on both boys, they have all scabbed up or are already healed!! I used it 2x a day to move faster. I truthfully thought it'd be 1-2 years of this mess. The one with 30 spots and no treatment was nearly a year. The one with 80 spots and this treatment was 5 months. 1.5 of those months was with this spray. I WISH I found this and tried it so much earlier!!!!
Sara. Amazon USA. 19 January, 2019
MOLLUSCUM ! People.. the Lord Jesus has blessed the earth with this natural remedy! Seriously. I've tried everything from iodine and tea tree oil, tea tree body wash, tea tree with Frankensence oil.. those all I believe suppressed the outbreaks but THIS .. in a week or so it was gone. This was at beginning of November to now mid December and have not seen it return. I don't know how doctors don't recommend this and say "let it run it's course." There's a cure and it's this.
Jess. Amazon. USA. 12 December,  2018
Glad we found this item
Brought for my son who has a skin condition and this is helping massively.
F.S.F. Amazon UK. 02 December, 2018
The lotion arrived in the time frame expected. The lotion has cleared up our daughter's molluscum on a timeline which exceeded our expectations.
N.A. Amazon USA. 11 November, 2018
Gets rid of Molluscum Contagiosum in just over a month!
I can not recommend this spray enough!
We were told by the doctor that my 5 year old daughter had molluscum contagiosum on the backs of her legs and around her groin area, they started spreading rapidly to her arms and were causing her great discomfort with the itching and soreness.
The doctor said that there was no treatment and they would clear up by themselves in 18 months to 2 years!
After reading the the reviews about Dr Wheatgrass spray I was willing to give anythjngca go to help her. I used the spray morning and after her bath and after just one week the spots started to dry up and no new ones were appearing! We have been using it for about 5 weeks now twice a day and the spots have virtually disappeared completely.
This is an amazing product and has worked wonders for my daughter, we are over the moon and highly recommend to anyone suffering with Molluscum.
Miss E. L .C. Amazon UK. 28 September 2018
This worked so well for my sons molluscum! My son broke out in molluscum bumps all over his body in June 2017. After visiting his doctor I was told there wasn't much I could do. The doctor said the only thing he's seen work is using a q-tip with apple cider vinegar to get the molluscum to erupt. We did this for a while but after a few weeks of me doing that daily it became painful for my son, it was drying out his skin and giving him a bright red rash. I started googling anything else that might help and came across this spray. I started using it mid November and the molluscum was completely gone by the first week of December. He had no sensitivity to the spray whatsoever, it didn't hurt or cause any skin issues. After all that time dealing with the molluscum I was shocked at how fast this worked. If he ever gets molluscum again I'm buying this immediately.
Taphie. USA. 26 August, 2018
I love the spray, the lotions and the super shot! My whole family uses them. Both of my children had molluscum and this cured my son within 2 weeks. My daughter took longer to cure but it did work.
Amazon Customer 22 August, 2018
So as most of the others posted Molluscum Contagium is said to have no cures. My son had a rash that started on his side around his rib cage and when I took him to the dermatologist she stated that it could take months to years for it to completely go away and that there are no ointments, creams or medication that could help. It was very discouraging to hear that so I went home and google searched until I found this amazing product. Summer was coming and I felt bad for my son, he had to wear a shirt over the rash to cover it up and he had to be singled out during bath time at home, no one could share blankets with him, it was like he was plagued. So when I read the reviews and saw the before and after photos I thought "what's there to loose trying this product." When I received the spray we immediately began treatment. After every bath I would spray his skin lesions to his dried skin and place a shirt on him. The first week I sprayed it on him twice a day. Once before school and once after his evening bath. After that I would spray once a day for another two weeks and then I sprayed occasionally when I could remember to. The only complaint he had was that it was cold. It didn't spread but the lesions began to look somewhat irritated and red, he started itching them more which concerned me that it would spread. I believe this is when the virus was putting up a fight. Thankfully it didn't seem to spread more, we diligently continued the weatgrass spray and put a shirt on him to prevent scratching. Within 2 months it was practically gone! I see that where the lesions were there is now a concaved tiny spot where they used to be. This may heal or might scar but the virus is gone! I have attached before and after pictures. The first photo is the day we started the wheatgrass treatment (April 27, 2018) and the last is (June 7, 2018).

Rick B.USA  11 June, 2018
My son had molluscum contagiosum twice. Last year in July and this year in June. Summer months seems to be most popular. As soon as it appeared it's ugly head again last week, we used the Dr. Wheatgrass skin therapy SPRAY (not the cream). Again, it dried up his bumps in two days and will probably all be gone in the next week or two. Last year it took about 2-3 weeks to completely go away since it spread whilst trying to find a solution. We started at the doctor, had one frozen off which was torture for my 6 yr old, so I'm extremely thankful I gave this a try, especially with how skeptical I am. IT WORKS!! Same bottle worked both times over this last year. Don't waste another penny going to the doctor. Also works great on eczema and boils.
C.B. USA. 5 June, 2018
5 Starts – Good product and has multi uses.
Amazon customer. UK. 13 May, 2018
Ok I was super skeptical about this product, but I thought ok it's worth the try. This spray has almost completely cleared my four year olds molluscum and I can't even believe it! Twice a day for a couple weeks now and it's almost all the way gone. If you have a little one with this problem please just give this a try before having them removed by a dermatologist with needles and all that. I know in some cases it's something you just have to do considering the severity but I'm telling you it's worth trying first. I'm super happy with her results.
Matt. USA. 26 April, 2018
Only thing i've used that has worked
Bought to help clear my daughters mulloscum contagiosum that she's had for 7 months and was spreading to other areas on her body. Only been using a week but it is really improving as no new lesions have appeared and old ones seem to be clearing. Great stuff
Robert. Amazon UK. 09 April, 2018
Great purchase, I love this product!!
A.P. USA. 04 April, 2018
This review is an update from my last review. I love this spray ! It helps reduce redness and inflammation from my perioral dermatitis! Works like nothing I have ever tried before.
E. F. C USA. 29 March, 2018
I've suffered with severe eczema on both my legs for a couple of years. I couldn't wear shorts nor skirts due the outbreaks were so bad and embarrassing. Been to dermatologist many times for help. The prescription steroid cream didn't do much for me and the next treatment would be taking Prednisone, which I refused. A friend recommended I give this a try, along with making some changes after some research online. I changed my body wash to Aveeno's skin relief fragrance free body wash with luke warm shower, pat dry skin, spray this Dr Wheatgrass on and add the Aquaphor Advanced Therapy Ointment Body Spray, and massage them in. Once in the morning and once at night. By the 2nd day, my eczema starts to clear. By the 3rd day, dry skin from the eczema patches starts flaking off. Now, it's my second week using it, my legs are COMPLETELY CLEAR!!! No new inflammation, no itching, no dryness. I will definitely continue using this and would recommend this to anyone with skin issues.
Pebble. USA. 13 March, 2018
5.0 out of 5 stars- much like the photos on the website showed
I haven't ever bothered to review before but I felt I should this time. My 2 year old son had Moluscum contagisum diagnosed and the doctor said it would be between 18 months and 2 years to go on its own, and would probably spread. My son said the spots hurt him and tried to scratch them now and again. I googled and found dr wheatgrass and decided for £20 it would be worth a go for the sake of 2 years, especially given the comments. We started using it twice a day, morning and evening and after a couple of weeks we saw the spots start to redden and get angry. We read this could happen, so continued and they then started to scab over, much like the photos on the website showed. After this the spots faded and within about 2 months they have completely gone. This product has worked wonders compared to waiting for his immune system to fight it- I fully recommend it!
N_N_R Amazon UK. 11 March, 2018
Miracle cure for Molluscum
I bought this for my 6 year old son. He was diagnosed with Molluscum last August, the doctor gave some cream for when it became itchy but said that they do not treat them and will eventually clear by them self. After 7 months they were clearly spreading and he had around 100 spots on his torso, arm and a few on his face. He started to become extremely conscious of them and was worrying about going in the swimming pool on holiday at Easter. I researched possible treatments and finally came across wheatgrass spray. I wasn't feeling overly optimistic but as it's a natural product I decided to give it a go. Well, 4 weeks after we started spraying twice daily and covering them with plasters they have almost all scabbed over (waiting for just three more to scab)!!! We are all so delighted and can not recommend it enough. A word of warning is at around 2-3 weeks of beginning the spots looked awful, I thought they were getting worse and considered stopping using it but apparently they get worse before they scab.
S.H. Amazon UK. 10 March, 2018
5.0 out of 5 stars-just great
ambajd. Amazon UK. 04 February, 2018
My daughter was treated twice at the dermatologist with a chemical for her molluscum and it didn't help. I searched the web for other alternatives and found Dr. Wheatgrass and I didn't have high hopes but after only a few applications her molluscum was significantly better she now is almost molluscum free! This stuff works so well that I cancels her next appointment with the derm because they were going to do another che cual treatment. Buy this if you or your child is suffering from molluscum.
Adam.  USA. 04 February, 2018
Very happy with this product. It dose as advertised.
T.S. USA. 20 December, 2017
I am so happy I finally found something that works! I've had Molluscum since September and I literally have tried everything and spent way too much money trying to treat it. The spray and the Supershots are all you need! I honestly saw a slight difference in 1 day but it is now day 7 and there is so much improvement. I finally feel comfortable in my skin again. It has also done wonders for my face! People have complimented on how great my skin looks. Thank you for your great product!!
JV. USA. 28 November, 2017
My wife is a diabetic and she has very sensitive skin and her legs broke out with some sort of rash and this stuff is healing her skin very nicely! I highly recommend this to anyone looking for something to sooth your irritated skin!
Wardog. USA. 13 November, 2017
Recovery succeed
Amazon Customer USA.  30 October, 2017
Great Product
Love it. Truly much better than antibiotics which take forever and harmful.
Sandra E.M. USA. 23 October , 2017
Helps my psoriasis. Even have my mom using it. She's had psoriasis since she was 11 and it's helped her greatly. Her doctor recently wanted to know all about it.
Amazon Customer  12 October, 2017
This product has been a miracle for my Red Skin Syndrome (autoimmune — basically extreme eczema). And reading Dr. Wheatgrasses articles about using this product for RSS have been life changing for me!
I still battle with my eczema and RSS but this is the only product that I can use regularly to get relief and help my skin repair. This was my results after an RSS flair. A little less than a months time between the photos. I balance it all with an extremely clean diet…but I do give this product and Dr. Wheatgrass' methods a ton of credit!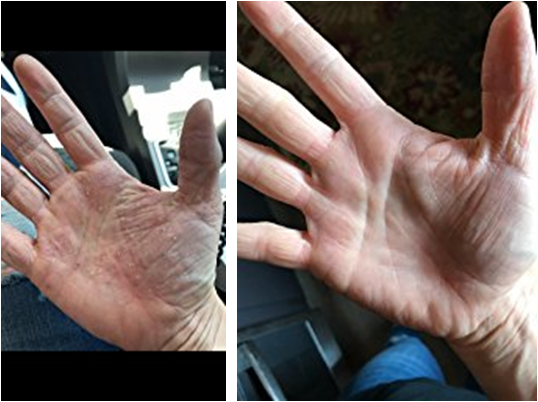 J.M. 4 October, 2017
My 7 year old molluscom was spreading under his arm and the dr was saying 12-18 months before it will clear on its own and there is no meds to give that would help. The dr didn't seem to concerned but it was unsightly and getting very itchy for my son. The dr has him take Zyrtec because the itching was causing hives. I began spraying this wheatgrass immediately when I got it and about 2 weeks after using it morning and night the small white dots were getting less and now 4 weeks in his arm is almost completely clear! This stuff is amazing! I'm glad I found it.
cmth31 25 September, 2017
You can see improvements quick
It is working like advertised. I will be buying more
K.R. 14 September, 2017
First off, I NEVER write reviews but I have to express my love for the Wheatgrass in helping my 3 children finally treat/heal their Molluscum AND heal my son's bug bites AND my daughter's Eczema.
My Molluscum testomony– I am a ER nurse and mother of 3. Almost 1.5yrs ago my oldest child had a small bum on her lower back, I went and asked our peds doctor who told me it was a "cyst" and not to worry. All 3 of my children showered together in the evening, so when my 3rd child started getting the SAME type of bumps on her back… I went back in and asked AGAIN what they were. Finalyl after over 6mo, my peds doctor told me it was Molluscum and to leave them alone and not to worry….. at this point ALL of my 3 children were getting bumps that were still spreading everywhere. My 2nd child started having outbreaks and at one point he had over 80+ bumps on his neck/underarm/groin/inner legs. My other 2 children had 10-15 bumps each. Before Dr Wheatgrass, I tried everything natural…. Apple Cider Vinegar (which irritated my childrens skin even when diluted and promoted the Molluscum to get infected …. which is the only permanent scars they have), Tea Tree Oil, ZynaDerm, Conzerol, and anti-viral Lemon Balm—- NOTHING worked and all of my 3 kids hated when "bump" time happened because they feared the pain.
Then one of my many nights googling remadies…. I found Dr Wheatgrass and it has been a miracle for us. Granted Molluscum is a virus and it takes time to go away and for the immune system to :fight it off", I could tell a huge difference even the first few days=== the Molluscum bumps would start to dry out and shrink (the small ones) and the larger ones would get "angry" and open off— the healing phase!!!! and go away. Even after the Molluscum is gone, the dark "old" spots take time to heal and fade. But their skin is smooth after. We use the Dr Wheatgrass Superbalm twice a day AND the Supershots at night (mix it in a small cup of juice). I sometimes use the Dr Wheatgrass Skin Recovery Spray on days when my kids what to go to bed "real" fast and not want me to rub the cream on them (I use q-tips to apply on the kids to avoid spreading)— I also wash their pajamas AND bath towels daily to avoid spreading.
My daughter's eczema story– My 3rd child (who also suffers from Molluscum) has had bad outbreaks of Eczema since a baby— probably dairy related but she is a cheese lover!! When I use Dr Wheatgrass Superbalm on her outbreaks, I notice that he outbreaks are lighter the next day… then her outbreaks turn white till the skin can fully recover and regain skin pigment. It helps moisturize her skin and prevents the itching feeling.
Bug Bites story– After having such wonderful luck the last 6weeks, my some got attacked by some unknown bugs on a trip. The bites were itches and some formed pustules that would make wounds on his legs… they looked horrible. SO I started using just the Dr Wheatgrass Superbalm on his legs (when I would do his Molluscum bumps) and his legs healed with barely any scaring— Amazing!!! I included pictures of my 3 children— Molluscum, Eczema, and Bug bite relief.
Thank you!! Well worth the money to finally find something natural that works.
cartera97 10 September, 2017 *Customer uploaded images on Amazon

My boyfriend used this for his molluscum after 2 months of battling with the imiquimod cream that the dermatologist prescribed him. I read some reviews and decided to see if it would help with my eczema as well. I was using topical steroids, but I have had adverse reactions to steroids in the past, and I couldn't use my steroid cream on the eczema on my face. Not only did it drastically improve my boyfriend's molluscum, but after just one use my skin felt so much better. I understand that this may not work for some people, but honestly, it's worth it just to see. If it works for you, it's a lifesaver. I use it about once a day and my boyfriend uses it twice a day at least on his molluscum and his lesions are all but gone. He's had one or two pop up, but they are few and far between when compared to his reaction to the freeze treatments and imiquimod cream. This stuff is awesome. I'm so happy that I don't have to rely on expensive, damaging steroid cream anymore for my eczema, and he's happy that he doesn't have to keep paying for doctors visits to get freeze treatments that barely worked. Try it out!
Amazon Customer 25 August, 2017
Five Stars-amazing product
Irena.  Amazon UK. 22 July, 2017
Miracle cure for molluscum
Believe the reviews! This product works just as everyone is describing! More doctors should be aware of this.
Jennifer 26 June, 2017
I never usually leave reviews good or bad but I feel like doing so this time around is a MUST, especially if it can help another family dealing with Molluscum. We were told my son had Molluscum last July and that there was nothing we could do about it except to wait it out and it will go away on its own. Well 9 months later, there was no sign of those horrible bumps clearing up instead they were spreading everywhere! I tried everything I read online, Apple cider vinegar, tea tree oil etc. We even began discussing the option of having them frozen off, which hurt my heart just thinking about, but we were so desperate at that point. We actually had other parents tell their children not to play with our son, again another blow to my heart. I went back to the internet and found this product and initially thought "there's no way something like this could work". I spent hours reading every single review I could find and seeing that there was way more positive than negative, I decide I had to at least give it a try. THE BEST PURCHASE I HAVE EVER MADE!! After a week I noticed they were starting to dry up and after about 5 weeks of applying the wheatgrass spray, twice a day every day, I am happy to report that my son went from having 70+ bumps to only 3 bumps, which I wouldn't even consider actual bumps because they are totally flat, no more center and slowly fading! Worth every single penny, I am so incredibly happy and grateful for these products!
Thank you so much!!
J.L. 16 June, 2017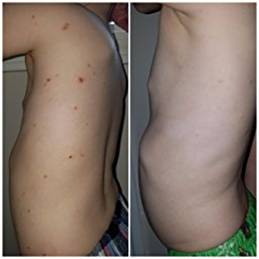 Worked really good and quickly
Summer 25 May, 2017
… for a year and this is a miracle I love it so much it's changed my life I recomend …
I been suffering with tsw for a year and this is a miracle I love it so much it's changed my life I recomend look at there website for for information stories like mine all i got to say is that my thankful for wheatgrass my skin is almost back to Normal take note that tho it might take 12 months to fully recover with the few early months you can see improvement but little by little but it's worth it h
At the end trust me think about it this way your skin is like a desert right now it's like dead for your skin to function again you need to take e 12 months just is you were born again like if you were a baby it takes like 7 months for a new born to grow right the same with your skin 7 to 8 months am no doc but around there then when a baby is born there skin is very sensitive just like you then within a few more months there skin heales gets strong it just makes since I hope you can understand it that eat your skin need time to recover just keep using wheat grass spary every day don't give up any questions I will answer them I love drwheatgrass I would recommend using also the supershots of drwheatgrass because it texoites the body from inside since steroid creams go into the body
J.P. 9 April, 2017
Have been using it for my daughter's molluscum. The Zymaderm didn't work and she has so many it took forever to apply it to each one. This is fast and easy, and after a month they are starting to go away!
Erin 29 March, 2017
Best Product I've Ever Used!
Amazon Customer 28 March, 2017
It seems to be helping my hair and scalp, only been using it for two weeks.
D.S. 27 March, 2017
Works great on some skin issues.
Raguls60 26 March, 2017
To A Healthier Me
It's early yet, since I have been using the product, but so far so good. I even sent my daughter a bottle to try. I praying/hoping for even greater results, thanks so much for making this product available.
Amazon Customer 12 March, 2017
Good product
This has helped not only with my 6-year hair loss journey, but with dermatitis on my eyelids due to dry eye syndrome (eyes constantly water causing dry skin). I only use it on my scalp every other day (wash it the next morning) and use a battery-operated massager (also purchased on Amazon). It has decreased the shedding. This is my second order.
J.G. 25 February, 2017
Molluscum Cured!!!
This stuff is no joke!!! I don't know what's in this vudu hippy spray but it works!!!!! My 2 year old son had molluscum all over his legs and butt and within a week it like tripled and started spreading everywhere. I wasn't sure I wanted to try this stuff because it's expensive and I wasn't sure it was going to work or if reviewers were paid to say it did. I'm here to tell you it does!!!! Within 2 weeks they were all little red specs. We sprayed all affected areas once in the morning and once before bed (religiously). It dried those suckers right up!!! Keep them covered because I think they start to itch. I'd always catch him trying to scratch. He even started to get a couple on his face so I sprayed some on my finger and dabbed it on his cheek and it disappeared by the next morning. I will recommend this stuff over and over! Thank you Dr. Wheatgrass, my baby doesn't look like a Leper anymore!!!!
Amazon Customer 22 February, 2017
Works great on Molluscum!
I've been meaning to write this review for years. All three of my children have had molluscum cantagiosum. After a google search I discovered this stuff and to all those suffering with this skin condition, IT WORKS! Spraying the molluscum twice a day will do the trick. After a week you will see that it is almost gone. After two weeks ours was completely gone.
To speed up the process, we chose to pop the large white heads with a needle. Be VERY careful to not touch the white part that comes out! It's the contagious part and once it touches skin it will start a new bump! I hope this review helps someone else, this was a lifesaver for our family. By the way, the bumps bleed quite a bit after you pop them and remove the white part, so be preared.
hem 10 February, 2017
5.0 out of 5 stars ーI bought this for my mother,it works wonders
Amazon Customer. UK. 08 December 2016
I have been plagued with mulloscum for the past two months. Went to my dermatologist and gave treatments that made the mulloscum get worse. Then they wanted to do laser surgery to my thighs, my scrotum and my penis. I refused. I found wheatgrass on line and began using it (the spray product twice a day ). With in two weeks my mulloscum was healing drying up and not spreading but going away. I cannot thank this product enough for helping me. It has been with amazing results. I will continue to use this product until it's totally gone as recommended for 6 to 8 weeks then use it as preventative weekly. I so highly recommend this product for mulloscum
JOHN 7 December, 2016
Worth it for me-Four year old son had significant molluscum contagiosum on the backs of both knees. Dermatologist decided not to treat and said they would fade. Six months passed and they got redder and spread to other body parts. We took a flyer on the wheatgrass spray. I sprayed him twice a day (morning and night) and covered them with large band-aids when they looked their worst (they are contagious when the waxy stuff comes out). After a couple months of this treatment they really started to fade. Now he is completely clear. I can't say if it was the spray or a combination of my ministrations – but the dermatologist did confirm that there is some value to the wheatgrass treatment.
B.D. 21 November, 2016
Has REALLY helped kill the melescum virus that we've been dealing with for months now! It just has expedited the recovery process significantly so I would say for that issue, it is worth every penny!
B.R. 20 November, 2016
Amazing Product. You must try it. it can be used for many skin problems.
Jm50 9 November, 2016
Ive been using it for 2 weeks now. Fells good, doesn't burn my skin. Is a good option instead of using moisturizer that will eventually make me itch and flare up more. I use it 3 to 4 times a day, im looking forward to see the long term result. So far so good! I will definitely recommend it to my Eczema community!
Amazon Customer  6 November , 2016
Love My Dr. Wheatgrass Antioxidant Skin Mist!!
-I LOVE THIS PRODUCT!!! Pleaze send me two more bottles–RIGHT NOW!!!
Amazon Customer 30 October , 2016
Great product.. would recommend to anyone. A little goes a long way.. so don't spray on too much…
S.S. 8 October, 2016
It works for us!
This works so much better on molluscum than the lotion version! It's a lot easier to apply and works a lot quicker. Definitely get this over the lotion! So happy to have molluscum gone on my kids!
J.C. 19 September, 2016
Beyond words!!!!!!!….SINCE MOLLUSCUM CONTAGIOSUM IS A VIRUS WHICH MEANS NO CURE, THIS HAS BEEN A HEAVEN SENT FOR MAINTENANCE OF THIS DREADFUL THING, UNFORTUNATELY 6 MONTHS WAITING AS THE DOCTOR STATED, I WISH I HAD DONE RESEARCH AND FOUND THIS PRODUCT LINE THE DAY THE VERY FIRST ONE POPPED UP AND TAKING MY DAUGHTER A WEEK LATER TO BE INFORMED OF THIS MOLLUSCUM BECAUSE NOW HER BODY IS CONSUMED WITH COUNTLESS LESIONS…PARENTS, DO NOT WAIT (as doctors will tell you it will clear up on its on)!!!!!!!!!! BE PROACTIVE AND ORDER WHAT DR WHEATGRASS HAS TO OFFER…WILL CONTINUE TO BUY THIS PRODUCT AND SEVERAL MORE, UNTIL IT DECIDES TO GO AWAY ON ITS OWN…..I'M JUST BEYOND WORDS HOW EXCELLENT THIS PRODUCT WORKS…I ALSO USE THE RECOVERY CREAM BUT ORDERING THE STRONGER DOSAGE ONE AFTER I COMPLETE THIS REVIEW…MOM
Nikk 11 September, 2016
I have spent a lot of money looking for a product that would actually live up to claims. This one did . I have severe itching from eczema and this is the only product that give me any relief and start the healing process.
S.T. 18 July, 2016
Happy with results. I have used the recovery spray for a red scaly place on my wrist and has turned into a receding no scale pink skin. I also use the spray at night as a hair conditioner to prevent hair loss. I also bought the recovery cream and Super Balm and using them on calluses and "fire ants scars" and seems to be better in a short period of time
I.S. 14 June, 2016
Bought this for my daughters Molluscum! So, she contracted it from her gymnastics Bar, and before I know what it was, it was spred all over her legs. ONE WEEK after using the spray and her legs almost look normal. Every bump is healing. I did use this spray IN CONJUNCTION with ZymaDerm. The ZymaDerm was very drying, and Dr. wheatgrass helped her skin heal!
V.C. 9 May, 2016
Great product!!! Product arrived super fast. It's making a noticeable improvement on my daughter's molluscum in a very short time, and I even used it on small acne breakouts and it definitely helped. I'll be reordering for sure.
A.R. 27 April, 2016
Effective spray helped soothe skin with painful skin infection.I purchased this Dr. Wheatgrass skin recovery spray, along with the brand's Superbalm, to try and help soothe my skin that had been afflicted with a stubborn staph infection. It gave me small boils, including a few on my face, which were awful. I used this spray in particular on my face, as it is much lighter than the Superbalm. Spraying it on my face, it felt refreshing and healthy. It dried on my skin without any sticky residue. I could apply makeup after I had let it dry for 10-15 minutes, without my makeup looking any different due to having used the spray first.Using this spray, the skin infection and boils seemed to improve more than it had when I was using just oral antibiotics and an antibiotic skin ointment alone. It also seemed to moisturize my skin, apart from helping the skin infection. When I used the spray on parts of my body with a painful boil, the spray definitely helped soothe my skin. Like I said about the brand's Superbalm, I would prefer if the products had some subtle scent to them.
H.R. 16 April, 2016
It is great! Any odd skin issue I have it works …I stopped taking my acne medicine and I bought this to help my skin. It is great! Any odd skin issue I have it works great. I love that I can just Spray it on instead of using my hands or cotton ball. It's wonderful.
Jenay 16 April, 2016
a really fine product – it works incredibly well
W.P. Amazon UK. 14 March, 2016
Helpful For Treating Eczema This has been very helpful in treating the eczema on my hands. I also use the recovery cream on my hands. Also, I take a dose of Dr Wheatgrass supershots every day. My hands are gradually getting better.
D.C. 6 March, 2016
Five Stars. This stuff works great for healing acne scars! Clears your face up in about a week!!
K.8. 5 March, 2016
My son got a molluscum infection so I bought the lotionand the spray. It has been helping a lot plus it doesn't damage the skin around as the medicine recommended by the dermatologist does.
Amazon Customer 2 March, 2016
I could not find anything that worked for my son's molluscum and this stuff works! Within 3 days, I saw it starting to clear and it was pretty much gone within 2 weeks. Highly recommend!
K.F. 1 March, 2016
I love this product! My little 3 year old niece has been in misery for the last 12 months with molluscum and in just two weeks I can already see a huge difference. I am so glad I found it.
Amazon Customer 2 February, 2016
This is the most effective product available in today's market of various skin care regimes, hands down to the moon and back!!!! Dr. Wheatgrass Antioxidant Skin care spray is incredibly effective for my daughters eczema and molluscum. She has delicate skin and this product is the only way to combat her rashes that are embarrassing and uncomfortable. She's only ten and the molluscum started prior to her experiencing eczema. She is lucky to have this resolved with the help of Dr.Wheatgrass Antioxidant Skin treatment. The best part, as well is, I can use it for my skin and it cures my occasional breakouts and WRINKLES. Put away all those so called wrinkle preventative lotions that are pricey! I spray this wonderful product on my face neck and areas that seem wrinkled because it will prevent future wrinkles. I sent this product to my brother prior to his knee surgery knowing it would clear his knee so he could have clear skin for his surgery. It worked almost instantly overnight. My daughter just could not live without this product. She also takes it in super shots that taste terrific and uses the cream. But, the spray is just as effective if not more because when you spray it on your own it will evenly distribute to all the areas of concern. She can now do that and not have me battle her with accidently spraying too much or little, she has control of her own skin. Ten years old and independently taking care of her skin teaches her long term positive lessons. I will order from this vendor time and time again. We are amazed with how incredibly well this Wheatgrass Spray works. You will agree once u receive it too! Thank you to this particular vendor for their fast efficient delivery and careful packaging. I am one happy camper!! Go buy it today it is worth every cent and will save your skin! Literally!!!
J.L.L. 12 January, 2016
Helpful, natural aid for eczema. Granddaughter seems to be benefitting. Just began using. So pleased ingredients are natural.
Gleeoj 9 January, 2016
Adult acne-product has helped my skin condition. will order again.
Amazon Customer 5 January, 2016
Definitely recommend- I use this spray for my eczema/ steroid withdrawal and it is helping me to be able to reduce the amount of steroid I have to use
Jessica 17 December, 2015
5.0 out of 5 stars Tearing my hair out over Molluscum
I'm not normally a reviewer, but I would probably have never purchased this were it not for the reviews, so wanted to share our experience. After several months my son's Molluscum had got progressively worse, and was continuing to spread. He suffers from eczema which increased the chance of spreading, and meant that a lot of other remedies were unsuitable as they just inflamed the eczema more, and encouraged more spreading. At my wits ends £20 seemed a reasonable investment on the off chance it actually worked. We made several other changes that no doubt helped (switching to showers, covering the mollusum with cotton tops at all times, changing towels after each use, multivitamins etc.) but within a week of starting the spray the rash had become red and angry. This is a good thing – my chinese friend assured me that homeopathic remedies work by speeding up the body's immune response and fast tracking the course of the virus. The spots turning red is a sign the virus is being attacked by the body. After another week the spots had started crusting over and healing. We probably had in the region of 200 spots across the body but mainly concentrated on the arms. It's taken 6 weeks and 2 lots of spray but both the eczema and molluscum are now gone with only a fading scars to remind us of where we've come from. If I ever had to deal with molluscum again, I would buy this immediately and get spraying before the virus takes hold! Well worth the investment.
Rebecca. Amazon UK. 05 September, 2015
A miracle skin recovery spray that helped my son's molluscum to heal. As a first time mom, seeing pimples like bumps on your 2 yr old about it and my doctor is now telling her patients…also great for animals and so natural! I am now going to try some of their other products…
J.C. 8 June, 2015
Great product!! This product not only is good with normal skin, but works wonders on burns or cut skin as well.
Byjblueon 24 May, 2015
This stuff is nothing short of miraculous! This is the 3rd product I have tried to help my 5 year old daughter with a horrible case of molluscum. Nothing else has worked. I was at my wits end and had no idea what else to try when a friend suggested this spray. And it worked! I will say that it took at least 4 weeks to really start seeing results. Stick with it and you won't be sorry.
M.F. 10 April, 2015
­­­­If you own a horse, read this! I use Dr. Wheatgrass primarily for my horse. In ten years, it is the only product that stops him from rubbing out his tail head every summer. Just spray – so easy to use! Also use on any itchy bites on my horse. It is not oily, so no problem using it where tack might go.
K.S. 6 April, 2015
Spray arrived next day which was really fast,my daughter's skin is improving already ,we have only used it for 5 days or so .Excellent!!
m.a. Amazon UK. 04 March, 2015
Yes! It WORKS!! It works great on sores, rashes, you name it. Best product I have ever used – and I have used nearly every product available!
P.M. 26 February, 2015
I am very impressed with this product. My son has had molluscum for about a year now and we have tried SO MANY natural remedies and nothing seemed to be working. His doctor and dermatologist told us thy usually just wait for the virus to take it's course which could be 12-18 months or longer. My son had a pretty bad case…all over his leg, torso and down one arm. I came across this product and figured I would give a try because I was willing to try anything. After a couple days of spraying 3 times a day his skin was noticeably better and the bumps were all turning red and eventually going away. I am still using this product twice a day but I can't believe the difference in his skin in just a couple weeks. I am not sure if his virus was just coming to an end since it's been a year but it started changing once I started using the product so it had to have done something. Im sure different products work for different people but I am glad we finally found something that did something positive and Ilove the fact it's a natural product.
M.S. 11 February, 2015
Five Stars – Wonderful stuff.
J.F. 29 January, 2015
Amazing! Cleared my daughters severe case of molluscum (200-300) when all else failed. It took two bottles and 6 weeks!
Jennie. Amazon UK. 26 December, 2014
Five Stars – AWESOME!
J.M. 1 December, 2014
Five star. Great product, arrived on time, would definitely buy it again.
R-M. R. Amazon UK. 28 October, 2014
Five Stars – excelente
J.R. 30 May, 2014
This product worked absolutely wonderfully! I'm not sure why my daughter had dry, cracked lips, but after spraying them with this product for approximately one week, everything was back to normal. It pained my wife and I to see her lips so dry. We tried all kinds of products; even prescription strength products, to no avail. I have suggested your product to several friends for their needs.
WB. USA. 1 May, 2014
Excellent – Delivery great, product works even when visiting the doctor they said this was a good product and would recommend for use.
D.T. 23 April, 2014
Worked for my son! My son had Molluscum Contagiosum. It seemed to be spreading rapidly, he had a lot on his waste and his forehead. His dermatologist said it could take up to 4 years for his skin to clear up. I decided to give this product along with zymaderm. I used this on his body and zymaderm on his face. Within weeks his skin started to clear on his waste. His face wasn't clearing up with zymaderm so I used the spray on his face and his face cleared up too! His pediatrician couldn't believe how quickly his skin cleared. I read this did not work for some but it seemed to do the trick for my son who seemed to have hundred's on his body.
D.C. 21 February, 2014
Fantastic! We bought this a few weeks ago and started using it twice a day as they recommend. The results are amazing! The diabetic ulcer on my husbands foot is showing great progress and the new skin growing in is healthy. The Dr. asked my husband what he has been doing as it has boosted the healing process!
Bsandkk 20 October, 2013
This sprayis great and helped my daughter! It is easy to apply! This was a great discovery on amazon for us! I have tried various things for my daughters Molluscum that we were trying get rid off for a few months and this spray got rid of it in just a couple of weeks and it is so easy to apply. I might have used more than needed in one application and therefore we ran out of the first bottle pretty fast. I did order 2 more after the first one. So it is a little costly but it is such a peace of mind to know that you're using a safe product that is all natural and you know your little one is not in pain or uncomfortable so it makes it worth while. Thank you for this great product and fast delivery!
Amazon Customer 13 July, 2013
It has really helped my daughter's Molluscum. I never write reviews but this stuff really works! We have been dealing with molluscum for over a year and we noticed an improvement after using this spray for a week. We are ordering the lotion too because my daughter said the spray was cold but otherwise she tolerated it without any problems.
M.B. 22 June, 2013
Turns Molluscum to liquid and HEALS Skin! I could write a book about my 2 years with molluscum contagiosm, how I had over 100 angry bumps and how my doctor or the derm he referred me to could figure it out, but I won't bore you with all that. I have been using this spray since yesterday and at first it made my skin tingle, then it started to tingle more and more, then nothing. A few hours later I checked on a couple of my bumps, and WOW, they were turning BLACK (the virus pellets seeds or whatever you want to call the nasty white pimple looking things are changing!) Before I went to bed I applied a second spray coating. This morning, the huge, nasty, weeping welts are shrinking up dramatically! if you have molluscum you know that them shrinking and turning black are awesome signs of recovery. Finally!!! I may have found the cure beyond tea tree oil, clove oil, oil of oregano, apple cider vinegar!!!! Bonus is that it is so simple and easy to use. Has a faint odor, not unpleasant, and it looks like these little white virus seeds are melting away.
T.D.S. 8 March, 2013
Skin Recovery Spray – I feel this product is awesome and it needs to put out to show others through advertising. It is working and I have foot ulcers I have been spraying it on. After just a few weeks I can tell the difference in the softness of my skin and I see skin growing. I have told my doctor about this spray and he is checking it out. When I find a product that works, I stick with it. I also feel this would be the only spray you would use for your body, face and of course a few ulcers..
May 28 January, 2013
wheatgrass changed my life – this is amazing we have had mollescum for 9 months tried everything all over the trunk buttox and arm horrible. Having to wear turtlenecks everyday because school was terrified a pregnant teacher would be infected. Terrifyingly itchy due to the accompanying excema. Went to Docotor this am mollescum is gone just redness from healing still present. Dermo couldn't believe in three weeks that along with what she reccomended that the wheatgrass healed the skin. She took the name of the product so happy thank you for saving us from so much more heartache.
Mary K B.K. 6 December, 2012
Amazing, and I'm naturally a skeptic! I really don't understand how this works, other than it just does. I use this product with Zymaderm term to clear up my daughter's molluscum rash, and I'm now using it on my face nightly as a toner. It has also almost completely cleared up my daughter's eczema and has made her skin very soft and smooth. It seems to improve my acne/clogged pores, and it reduces the inflammation associated with my infant's baby acne. I really wish I had known about this product a long time ago! I plan on gifting this to my family and friends with skin issues.
Staceycat 6 December, 2012
My 8 year old daughter has been fighting Mollescum for almost 2 years. They were spreading and getting worse instead of better. None had gone away. Her doctor told me to wait them out, they will run their course but this was not happening and they were spreading rapidly. So, I decided to do some research. I found this spray and with all the great reveiews i decided to give it a try. Much to my surprise IT WORKS! It has taken about two months but we are down to around 10 from 40 mollescum and the remaining one's are on their way to being gone!!!!!!!!!!!!!!!!! it is hard to believe myself but it truly works. We use it twice a day and I noticed a difference within a few days they were starting to get red within two weeks her first one was gone and they have continuted to go away throught he whole treatment. I am so glad that I found this and that other people had taken the time to write their reveiws. I hope you have the same outcome as we did! good luck!
love amazon 28 August, 2012
Amazing product. The first thing that helped me close up an superficial skin ulcer. I can not find enough words to praise this product. A must try for anyone with an open sore with difficulty closing it.
Bergy 19 August, 2012
Amazing product for Eczema – I have been an amazon prime member for 7 years but I have never written a review. This time, I am writing my frist review because Dr Wheatgrass has been showing amazing skin recovery for my son who has serious Eczema since 9 months. We used hydro cortizone for couple of weeks when my son's eczema became serious but it did not work and of course we did not want to use it anymore since it has steroid in it. First of all, we wanted to try this product since it is made of all natural organic product and it showed dramatic skin recovery in 3 days of use. I strongly recommend this product for babies with serious eczema and we as parents greatly appreciate the Grass factor for carring this wonderful item.
A.J.H. 10 April, 2012
Amazing product for my son's eczema!!! I hardly ever write reviews on any type of product, however, I felt compelled to comment on this wheatgrass spray and the supershots. I started using the spray for my son's eczema on his armas and legs, and miraculously the next day it was almost gone. He has used cortisone cream and steroids since he was two, and now I only use this spray daily and his skin has never looked better! In addition, both of my sons have been taking a tablespoon a day of the wheatgrass supershots and have noticed that my one son's asthma and my other son's rhinitis symptoms have calmed to almost half of where they were originally. I truly see these as a miracle products.
A.L. 28 February, 2012
Great for Associated Eczema but may not cure Molluscum – My five year old daughter had a very wide spread case of Molluscum. Well over 150 bumps across her thighs, abdomen and arms at its peak. I've read every possible thread on Molluscum that I can find on the Internet. I was extremely hopeful when I came across Dr. Wheatgrass spray. When I began using it, I believed it was accelerating the process of getting the bumps to enlarge and scab over. In the end I believe it was great at clearing the Eczema that comes along as a side effect of Molluscum, but I don't think it has enough impact on curing the Molluscum itself. In order to get rid of Molluscum the body's immune system needs to start fighting it. Once the immune system wakes up, it is amazing how fast the bumps clear. Hang in there!! We went from a 150 bumps to 5 in two months. In the meantime, while you are waiting for an immune reaction –KEEP THE BUMPS FROM SPREADING!! Using Wheatgrass spray can help keep the eczema and therefore the itching and the spreading down. Hylatopic Plus Cream worked best for us on the Eczema (avoid standard steroid based Eczema medicine — it may actually boost the spread of the virus) Use fresh Pajamas every night that cover the entire affected area (or change the bed sheets every day — that seems harder). Use a fresh towel and wash cloth for every bath. When a bump is ready to open up, put a bandaid on it until it explodes into the bandaid. When a bump is open it is contagious for 48 hours. This virus goes on an even longer time if you don't keep from reinfecting yourself. We also went to the dermatologist and had a few dozen treated with cantharidin. This made the bumps blister up and pop off within a couple of days. You need to be careful but it does work. Same with Aldara. I swore I wouldn't use it, but if applied carefully and sparingly it was effective in getting my daughters immune system going — the real key to getting rid of the virus.
J.M. 7 December, 2011
Wonderful product! I have used the cream but I like the spray because it's easy to use. Dr Wheatgrass has many uses. I recommend getting the spray and the cream.
M.C. 22 October, 2011
So far I'm intrigued…I have an infant with this horrible molluscum !! She has had one treatment at the dermatologist with the beetle juice to blister about 7 of them. It worked, except for the "mother ship" as we call it – the main large fluid filled blister that was the very first to ever appear. It is still huge, and now a few more have started on the arm that touches her chest. I am using the Zymaderm on occasion with her, but it is hard to get it on a wiggling 9 month old. However, I do feel very confident that this product is not harmful, so I have started on her molluscum for a few days now. They definitely seem to "react" to it by shrinking up a bit. The interesting thing for me at this point is I started using it on myself. I have had adult acne on my chin and jaw – little tiny and medium bumps. Also, very mottled skin in the same area. I've been using this on my face as an astringent, and it is looking soooo good !! Not to be gross, but the acne is literally being rejected right off the face. And the skin is looking so smooth. I've now also started spraying it on my son's poor eczema elbows. We are using it with steroids right now. I love that their website told you how to treat it while using the steroids. And it's safe for infants and nursing mothers – HOORAY ! Will post an update in a few weeks…
K.L. 30 August, 2011
Skin Acne Spray – This is a very good skin spray. I also use it with the skin cream and they both keep my acne under control.
Mai 17 May, 2011
Dr. Wheatgrass is the ONLY solution we have found that takes away my daughter molluscum AND eczema! It did take a couple of weeks to show signs of going away but they are GONE!! I highly recommend this product! The lotion is great too. We like to switch between the lotion, superbalm, and spray. We apply it twice a day to keep the bumps at bay!!
E.L. 25 September, 2010
This is my first review for any product ever. I tirelessly studied every review, thread, and forum I could find for dealing with molluscum. This condition can be so difficult and frustrating to treat. It is unsightly and highly contagious. I so appreciate others sharing their information, that I felt strongly compelled to share my own experience so that others may benefit. I struggled trying to get rid of my 2 year old son's molluscum contagiosum for almost a year. He had a pretty widespread case, and it was rapidly extending to other areas including his face. I utilized a number of immune and antiviral supplements and homeopathics to address the underlying cause and every topical imaginable to treat it. Zymaderm worked rapidly for my eldest son's minor case of molluscum a few years ago, but unfortunately, did not seem to make any appreciable difference for this child's stubborn case. Apple cider vinegar seemed to be effective in causing them to scab over, but difficult to keep on his skin overnight and caused severe skin irritation to the surrounding areas. Compliance is a challenge with a 2 year old. My son understandably ran away when he saw me coming after the apple cider vinegar soaked tee shirt experience. This is the only product that clearly worked, was easy to administer, and did not irritate his skin at all, but instead improved its integrity. The lesions inflamed quite a bit initially, but then formed a scab and healed over the course of several weeks. I am continuing to use it until all evidence of lesions is entirely gone in the affected areas to ensure it doesn't resurface. I am a naturopathic doctor and am so grateful to find a product that I can confidently recommend to my patients and colleagues for molluscum and overall skin health. I am certain it would be beneficial for other skin conditions like eczema and acne as well. I am so impressed with wheatgrass and will be studying its potential use both orally and topically for other conditions. It is an apparent nutritional powerhouse for the immune system. I extend a heartfelt thanks and gratitude to Mother Nature and to Dr. Reynolds for developing an outstanding product.
J.C.H. 14 June, 2010
Great results using this product! My eight year old daughter has had eczema since she was three. We began using Dr. Wheatgrass Antioxidant Skin Recovery Spray and the Dr. Wheatgrass Skin Recovery Cream just two weeks ago and the results have been amazing. Her eczema was severe, and we have tried many other products to help her condition. The Skin Recovery Spray and Skin Recovery Cream are the only products that have worked. Her skin began to improve the day after the first application, and with two applications daily, it is looking better every day. I am very happy with my purchase.
E.G. January, 2010
Great for non-yeast or fungus based skin ailments. Dr. Wheatgrass products are excellent for skin and hair (I can't speak for hair loss, as I have a head-full). Both the spray and the cream are easy to apply and give almost instant results. It's especially helpful for calluses (on heels, e.g.) and other dry skin problems. I highly recommend it.
Hola 24 June, 2009