Ask Dr. Chris about skin lesion
Having a sore on my leg for some 5 years, which would itch so much i would have to scratch it making it bleed, after two years I made first trip to Doctor "A." who took a Biopsy it came back benign and then the doctor burnt it off with Liquid Nitrogen & was told that it would not come back, but it came back within a week later.
Went to Doctor "B"  different practice who gave me a tube of steroid cream which stopped it itching but would not heal, after three or four visits & the same amount of tubes I lost my faith in the medical profession & suffered it for another two years plus.
My wife reading an article in a local Newspaper about Dr Chris Reynolds & Wheatgrass, she talked me into going to see him, who gave me three sachets of wheatgrass super balm, after the second day the itching had completely gone & before i had used the first sachet  the actual sore had gone leaving a slight red scar tissue that is below skin surface, we are amazed at the healing affect of wheatgrass & are still using it daily, also the super shots my wife & I take daily.
P. B. Queensland. Australia. 11 June, 2009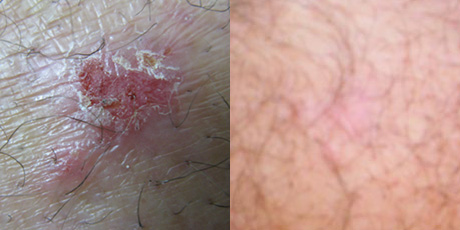 Non-healing skin lesion 5 years. Healed in 4 weeks with Superbalm